Frozen Dessert Catering for LA Weddings and Parties.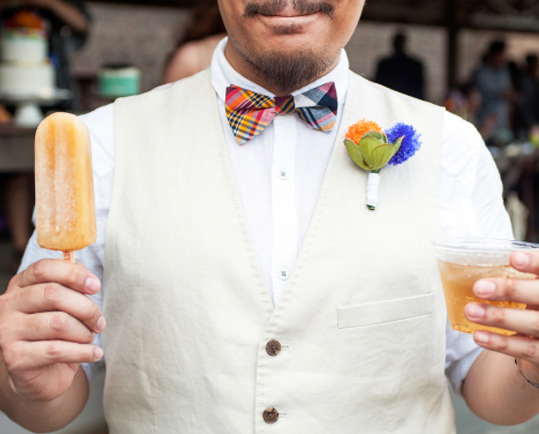 Make your wedding memorable…
with our boozy freeze pops
Hey there, we're Beach Town Pops - a leading LA dessert caterer, with a focus on everyone's favorite chilly treat – the popsicle! If sickly-sweet icing, or a thick slab of chocolate cake doesn't float your boat, then an ice-cold, handmade gourmet popsicle could be just the thing to keep your party or wedding guests cool in the hot SoCal sun!
We cover LA, San Diego, and many surrounding areas, and rumor has it that we even like to make up some naughty but nice, adults only alcoholic popsicles! Check out our menu!
Los Angeles Wedding Catering.
We know that your wedding is the most special day of your life, and our handmade, organic ice pops and frozen desserts are the perfect compliment. To make things even more magical, we can add a customized message to the sticks - revealing the happy couple's names as the ice melts away.
Whether you're a bride to be, a wedding planner, or another wedding caterer looking to compliment your own service, we're already excited about working with you…
Private Party Catering.
If your idea of a perfect party is having some fun in the sun, then our melt-in-the-mouth treats are the ideal compliment! It doesn't matter whether you're celebrating a birthday, an engagement, a bar or bat mitzvah, or anything else – we'd love to add an ice-cool touch to your special occasion.
We're also experts in LA corporate event catering too!
Drop Off Service or Popsicle Cart Hire - With Server.
We can drop off your ice pops in a cooler with dry ice, for the coolest self-service addition to any party or wedding, or we'll come along and share in the fun!
If we're on-hand to cater for you, then we'll come complete with our popsicle cart, enough dry ice to keep everything frozen, an umbrella, and a menu board. Our servers are all friendly popsicle pros, and come in our super-cute Beach Town Pops uniforms.
The Best Dessert Caterers in LA.
We're proud to be considered among the best dessert caterers in LA :) But we understand that you may want more than popsicles and frozen desserts – so we're happy to work alongside other catering businesses to deliver the best experience for your event.
In the past, we've catered weddings, parties, and corporate events throughout Los Angeles, San Diego, and the surrounding areas. We're regularly to be found catering at occasions ranging from Malibu beach parties, through to plush Bel Air soirées – and we've even catered to some big name celebs on film sets... Oh yes darling, we're awfully showbiz. :)
It doesn't matter whether you're hosting a party for A-list stars, or simply a gathering of family and friends, Beach Town Pops is your number one choice for delectable desserts of the frozen variety!
Let's Make it Magical.
Our gourmet popsicles are the perfect compliment to your perfect party or wedding. If you'd like for us to cater your LA event then get in touch today...